Kham / East Tibet Horse Racing Festival Tour
Date: July 12th – July 28th, 2017
Trip Cost: US$2450/person    Single Supplement: US$694
Minimum: 6 people    Maximum: 14 people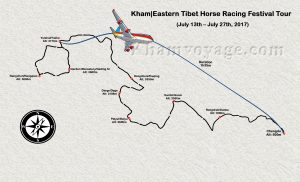 TOUR ITINERARY & DISCRIPTIONS
Day 1: Guest Arrival at Chengdu
Kham Voyage staff will receive guests from Chengdu Shuangliu International Airport and transfer them to Hotel near by Chengdu Tibetan Market Street. A brief orientation will cover guest safety and trip logistics.
Day 2: Chengdu-Rongdrak/Danba, Altitude: 1800m Approx. Travel Time: 6hrs
Our journey begins early in the morning from Chengdu. The first glimpse of Tibetan Plateau will be the Dujiangyan Irrigation System which was known to be built around 256BC along the the banks of Minjiang River. The Minjiang is a tributary of the Yangtze River. Dujiangyan is also known as the 'Treasure of Sichuan' due to its crucial role in draining off floodwater, irrigating farms, and providing water resources for more than 50 cities in the province. In early evening, will arrive we arrive at beautiful Rongdrak Village where we will spend the night.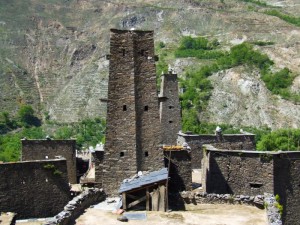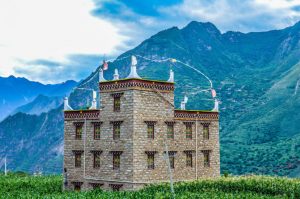 Day 3: Explore Rongdrak/Danba
Rongdrak is considered one of the most beautiful Tibetan villages based on its unique architectures, clothing, and dialect. Some of the family houses are centuries old and still stand strong. Rongdrak is also known as the "ancient country of thousands of watchtowers", because of the many of clay and stone watchtowers in the area. Built with four, six, or even thirteen margins on the cross section, some of the existing watchtowers dates back to thousand years and stand to heights ranging from 100 to 200 feet (30 to 60 meters).
Day 4: Danba-Drakgo/Luhuo, Altitude: 3250m Approx. Travel Time: 5:30mins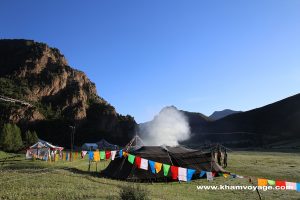 Hometown of Kham Voyage's cofounder Nyima Tashi, Drakgo is a typical Tibetan village located in a beautiful valley. To get there, we will drive through forested mountains, vast grasslands and rolling hills. On the way, we will see small townships, villages, nomadic families dwelling in black tents, and of course many yaks!
Day 5: Drakgo-Peyul/Baiyu, Altitude: 3600m Approx. Travel Time: 7hrs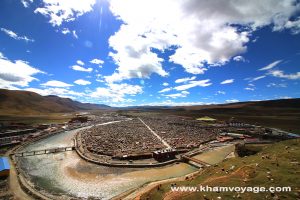 Our journey begins early in the morning.  Our first stop of the day will be Karze/Ganze County, the old capital of Karze Tibetan Autonomous Prefectureall Tibetan areas. Then we will visit Yachen Monastery, also known as the Yachen Orgyen Samten Choeling, which was found by Akhyuk Rinpoche in the year 1980. This monastery is located in an isolated valley 4000m above sea level. The Dzin Chu River flows through the monastery giving it a beautiful curving shape. With more than 10,000 monks and nuns, this monastery ranks as the second largest Buddhist Institute at the present time. Before sun set, we will travel on and arrive Pelyul.
Day 6: Payul-Derge/Dege, Altitude: 3188m Approx. Travel Time: 4:45mins
After breakfast, we begin our today's journey to Dege, the ancient cultural and wisdom center of Kham. We will drive through beautiful valleys thickly covered with forests, and past rivers dashing through narrow gorges. We will pass by small villages, stupa, monasteries, group of pilgrims, and stone carved Buddhist scripts and images which are quite common in all Tibetan areas. The road between Peyul ro Dege itself represents a glimpse of the Tibetan culture, lifestyle, and of Buddhism.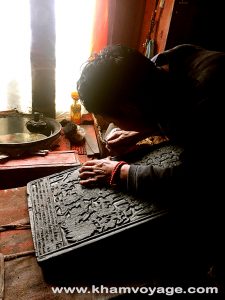 Day 7: Explore Derge

Derge is located at a narrow, forested valley. The Sequ River runs through the town. The main attraction of Derge is the Derge Parkhang (printing house) which was found by Derge King Tenpa Tsering in the year 1729 and restored in 1991. Three centuries wgo, Derge was well known for its richness of knowledge in economic and politics.It is still renowned for its contribution to Tibetan culture, language and religion.  Derge Parkhang still holds over 140,000 printing blocks, a large collection of national cultural relics, and a library comprising 830 books consisting of 10000 volumes in a 3 story building. Even to this day, the traditional printing process is kept alive due to its quality and the uniqueness of the printing method.
Day 8: Derge-Dzokchen/Zhuqing, Altitude: 3800m Approx. Travel Time: 4hrs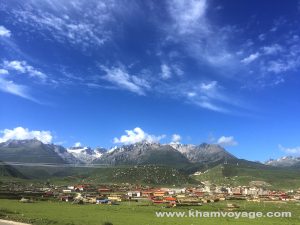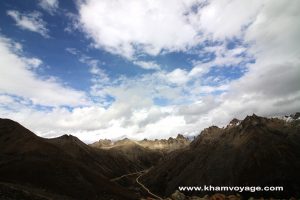 After breakfast, we begin our drive to Dzogchen by crossing the famous Trola pass. At an elevation of 5050 meter's tall, this pass offers breathtaking views of snow-caped mountains and glaciers.
After crossing the Trola pass we will visit holy Yilhung Lhatso Lake. This lake ranks among the most beautiful lakes in Tibet. Different sizes of stones and rocks carved with Buddhist scripts can be seen around and inside the lake, many of them dating back to 600 years old. In the evening we arrive at Dozgchen Monastery which was established in the year 1685 and is one of the 6 most influential monasteries in the Kham region of Eastern Tibet; many famous Tibetan Buddhist teachers have studied here over the past 300 years.
Day 9: Dzokchen-Yushu, Altitude: 3710m Approx. Travel Time: 6:30mins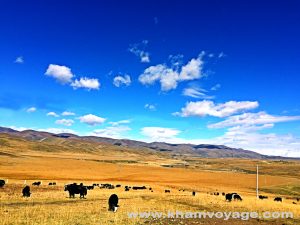 Again our journey begins early in the morning. Today we travel to Jyekudo, the capital of Yushu Tibetan Autonomous Prefecture, Qinghai Province. The road from Dzogchen to Yushu offers us beautiful views of grasslands and nomadic life. We will drive mostly through wide and open grassland with many domestics animal and nomadic families.
Day 10: Yushu-Nangchen/Nangqian, Altitude: 3660m Approx. Travel Time: 3hrs
After breakfast, we visit the Gyanak Mani Stone, which is only located 3 kilometers outside of town. Gyanak Many Stone is listed in the Genius Book of Record as the 'Largest Pile of Stones' and protected as a national heritage site. There are over 2 billion hand-carved Buddhist prayer stones covering a 1 square kilometer area. Each day, thousands of local Tibetans come here to pray and meditate while walking around the temple. Next, we will visit the Jyeku Monastery. This monastery overlooks the town of Jyekundo and was established in the 14th century.
Day 11: Visit Nangchen Gar Monastery, Altitude: 3900m Approx. Travel Time: 2hrs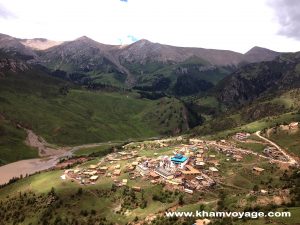 In morning we will drive to Gar Monastery,  a stunningly isolated monastery located at almost 3900 meters elevation.  For many travelers, Gar Monastery is a hidden gem. An evergreen forest surrounds the monastery, while craggy mountain peaks can be seen all around. The monastery has two sections, upper and lower.  The area is surrounded by wildlife, including blue sheep, marmots, picas, Himalayan  griffon and many more.  The monastery provides excellent day hiking opportunities and fantastic vistas!  It is a monastery of Garhcen Rinpoche, who is one of the most beloved spiritual masters of present Nangchen, and quite well-known even in the West. We drive back to Nangchen for the night.
Day 12: Nangchen—Gardhen Monastery, Altitude: 3500m Approx. Travel Time: 2hrs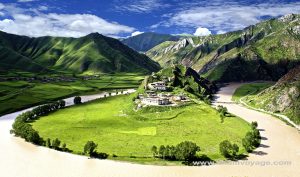 In the morning we will explore Sharda Township, and then drive to Gardhen which was founded in the year 1535. Gardhen Monastery, located on a beautiful bend of Upper Mekong River, is a hidden gem of Kham Nangchen and a must-visit place, especially for photographers and pilgrims.  Both the 5th and 7th Dalai Lama visited this monastery.
Day 13: Garden Monastery –Yushu Approx. Travel Time: 6hrs
For the final days of the trip, we will drive back to Jyekudo for the Yushu Horse Racing Festival, which is the highlight of this tour.
Day 14: Yushu Horse Racing Festival

The Qinghai Yushu Horse Racing Festival is a traditional festival that was held during the week of July 25th every year in the Yushu Tibetan Autonomous Prefecture in Qinghai Province. This festival takes advantage of the warm weather, so the valley floor has lush green grasses suitable for long-distance horse races and tent camping. Yushu Horse Race Festival is not only the main festival of tourist attraction but also a living link to the traditions of the ancient Kingdom of Kham. Tibetans from all over the Kham region gather here for traditional sport, song, dance and fashion show competition.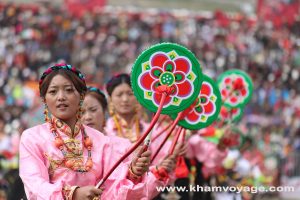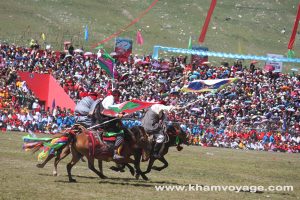 Day 15: Continue Exploring Yushu Horse Racing Festival
Kham has unique and diverse culture. On the famous Pathang grassland, people from different Kham areas gather for the celebration of this annual cultural festival. Entertainers alone makes thousands in number and attracts people from around the world. Locals enjoy this festival by dressing in their best traditional clothes with jewelries and set up colorful tents on the pastures for family picnics.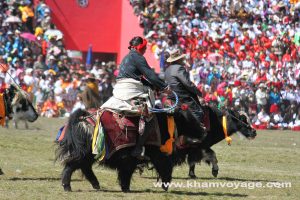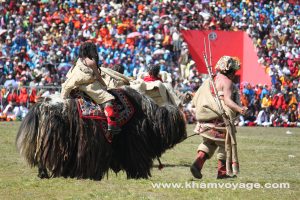 Day 16: Yushu-Chengdu, Approx. Travel Time 1:35mins
Guests can relax or go for shopping at Tibetan Market Street. In the evening, a nice farewell dinner will be arranged for the guests. Guests are most welcome to share their trip feedbacks.
Day 17: Guests Fly Back to Home
Kham Voayge staff will transfer guests to Chengdu Shuangliu International Airports. This trip and all the costs end on this day.
 Trip Cost: US$2450/Person     Single Supplement: US$694/-
Minimum: 6people    Maximum: 14people
Trip Price Inclusions:
All Ground Transportations (Prado 4WD)
Flight Ticket from Yushu to Chengdu
Flight Ticket from Yushu to Chengdu
Airport Pickup & Drop Off
All Accommodations
1 Experience Tibetan Guide for below 10 people
2 Guides for over 11-14 people
Three Meals a Day
All the Entrance Fees
Trip Price Exclusions:
International Flight
Insurance & Medicines
Personal Expenses (phone call, alcohol, etc.)
Gratitude to Guide & Drivers
For more information about this Tibet tour, send an email to: khamvoyage@gmail.com